Step 1: Sanitize
The key to maintaining a crystal clear pool is a steady routine of sanitization. Pool Season sanitizers are designed to kill bacteria, algae and other living organisms. Pool Season Sanitizers have built-in protection from the sun to maximize chlorine life.
---
Giant Size Chlorinating Tablets 3"
99% Trichloro-s-triazinetrione
Available Chlorine: 90%
Compressed 3-inch (8 oz.) slow dissolving chlorine tablets with sanitizing power of 90% available chlorine and built-in chlorine stabilizer to maintain proper chlorine levels in sunlight. For use in automatic chlorinators, floaters, and skimmers.
Kills Bacteria, Destroys Organic Contaminants and Controls Algae
Sun Protected for Extended Chlorine Life
Concentrated
Stabilized
Dissolves Completely
Use Reduces Acid Consumption
Available in various sizes.
---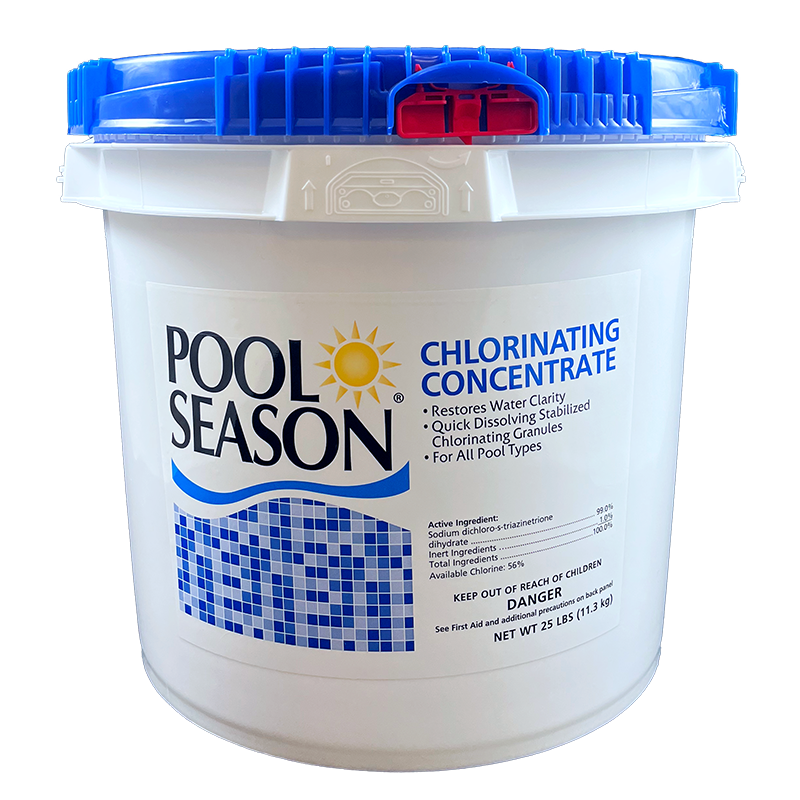 Chlorinating Concentrate
99% Sodium dichloro-s-triazinetrione dihydrate
Available Chlorine: 56%
Totally soluble and quick dissolving, Chlorinating Concentrate is a stabilized chlorinating concentrate in granular form with 56% available chlorine. The product is effective for use as a primary sanitizer or shock treatment.
Quick Dissolving Stabilized Chlorinating Granules
Restores Water Clarity
For All Pool Types
Available in various sizes.
---
What Does Chlorine Do?
Watch the answer!